When I started building my Twitter following, I became an avid follow-backer. Now, I'm regretting that, as I have a Twitter feed that's impossible to keep up with and no easy way of paring it down.
But, I have gotten more picky about who I follow. I almost always read a Twitter profile before I start following an account and I use that information, along with the first few tweets in the feed, to decide if I want hit the "follow" button.
So, why will I choose not to follow someone? Below, I've listed seven of my biggest reasons.
Of course, what works on Twitter is often subjective and these are my opinions.
But I do think social media experts agree with me on many of the points – so I've added a few links if you want to learn more about a particular issue.
(Oh, and sorry if this post seems a bit ranty. I'll be back to my more positive self soon. Promise.)
1. Your bio is riddled with grammatical errors
I'm a grammar nerd. I may make the occasional mistake – nobody's perfect – but if you can't get things right for your tiny little Twitter bio, it doesn't bode well for your tweets or blog.
Here's an article about why good grammar is important on social media.
2. You tweet in a language I can't read
Thanks for the follow, foreign-language speaker. I really do appreciate it. And well done to you for being multilingual – that is certainly something I admire.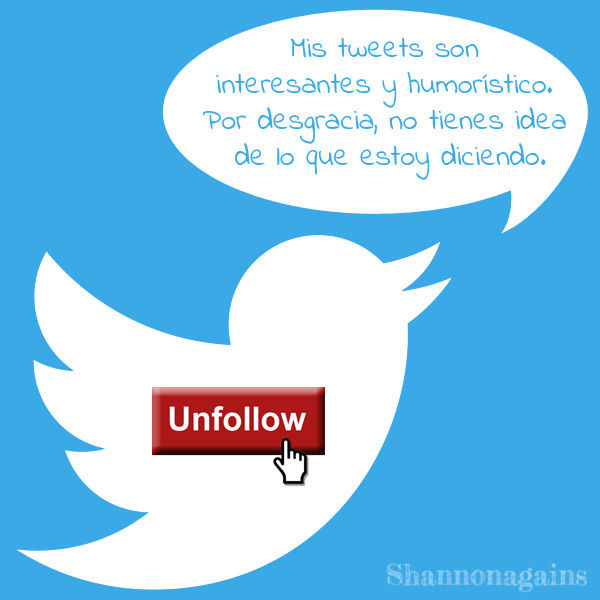 The problem, is I don't understand anything you're saying and it's just one more thing in my Twitter feed. Please, no hard feelings.
3. You use auto-reply
Automatic replies are annoying. But, to be honest, I can let most of them slide. While I've never used one myself, I see why you might think it's a clever idea – at least at first.
However, if you acknowledge in your auto-reply how annoying it can be, or if your auto-reply makes me register for something to prove I'm not a robot, then I'm reaching for the unfollow button.
But, please! Drop the auto replies! Here's an article about why auto DMs are bad and what you could do instead.
4. You're a brand that has nothing to do with me
Twitter is a great place to learn about new products, online shops and events. But, if you're a motorcycle dealership in Quebec? I'm probably not going to follow you back. Mainly because the chances of me ever needing to buy a Harley while in the middle of French-Canada are exceedingly slim.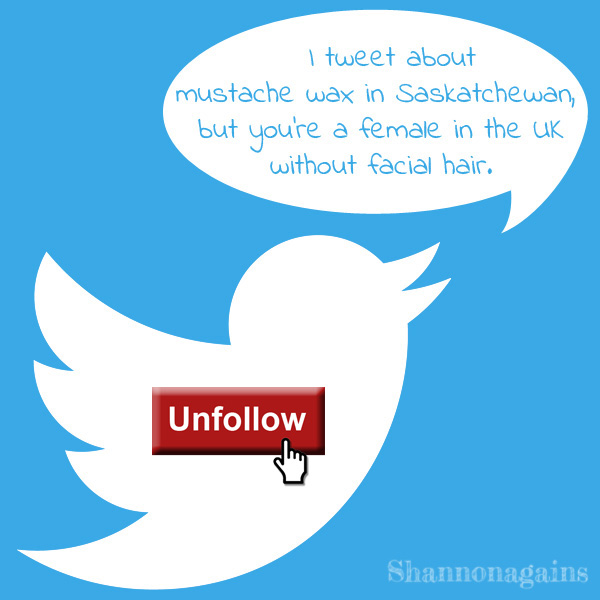 5. I just don't think we can be friends
I'm not expecting every person I follow to become my BFF, but if you seem fanatical about your political, social, spiritual or other views, I won't be following you back.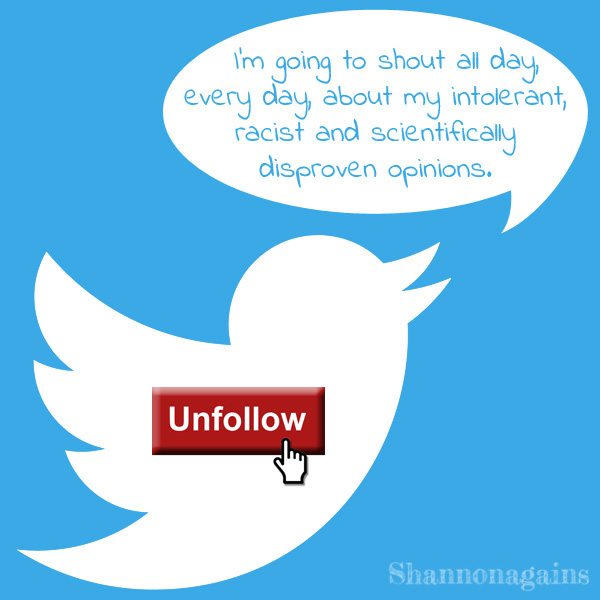 That doesn't mean I won't follow someone I don't agree with. I'm open to hearing different opinions and taking part in friendly debate – but if you seem righteous about your thoughts on religion, civil rights, immigration, etc, your tweets are just going to make me angry – and I like to save that anger for reading the comments on the Daily Mail and YouTube.
Similarly, if you refer to yourself as a Yummy Mummy (or something equally obnoxious) in your profile, I won't be following you back.
Good on you for thinking so highly of yourself, but this bugs me. A lot. Not because I'm not a 'yummy mummy' myself, but because this is the first thing you want to tell people about yourself.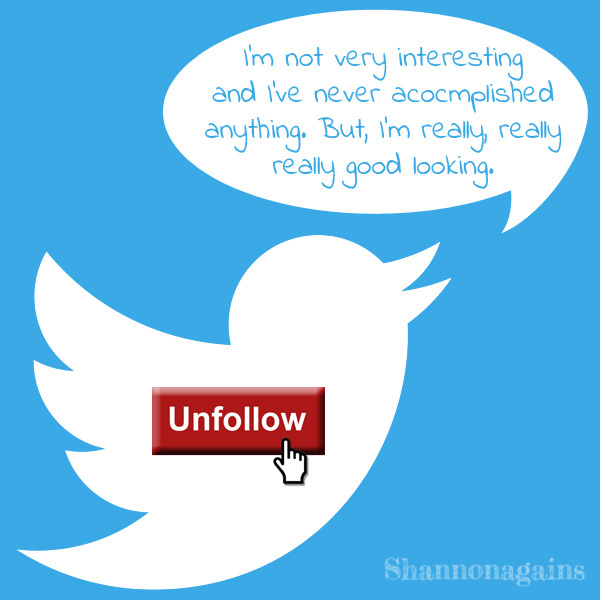 "Lost 80 pounds with Slimming World" is something I can totally get behind – that is an amazing accomplishment. "Fitness fanatic"- great! You work hard for your slim physique; maybe you can give me some pointers or inspiration. "Yummy mummy"? It's cringey and I sincerely hope you've got something else going for you.
Here's an article from Social Times about things you should avoid putting in your Twitter bio.
6. You tweet WAAAY too much
Being active on social media is great. But if I see you have just posted 50 times in the last hour, it's a good indication that you're just going to swamp my feed.
Slow down a little, maybe try scheduling your posts and focus on quality over quantity.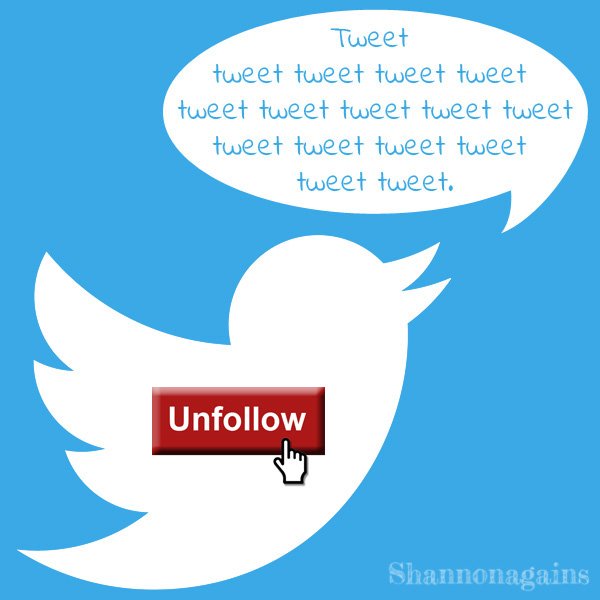 How much is too much? Here's an article about tweet frequency.
7. You post the same thing over and over
So, you wrote a blog post that you're really proud of, and which you think everyone should read because it's so fabulous. Well done.
But you wrote it last March and you've been posting it to your feed every day since.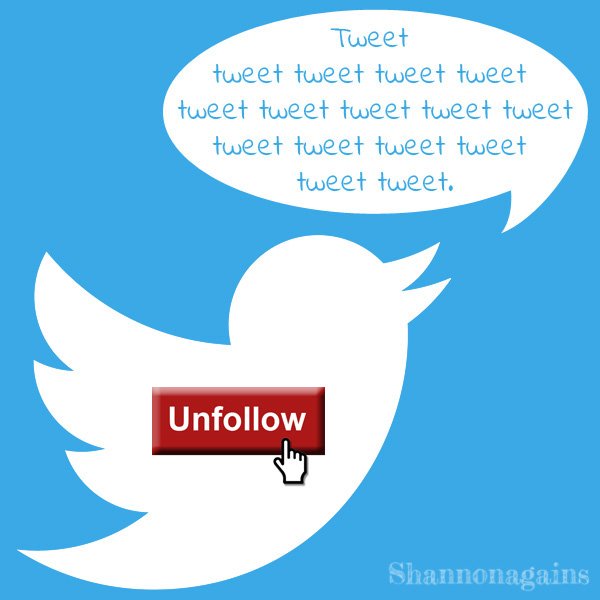 If I see the same thing coming up over and over again, it's going to annoy me. And when I get annoyed, I unfollow. #Sorrynotsorry.
Here's an article about minding your manners on Twitter.
So, what do you think? Am I too strict about who I follow back? What makes you reach for the unfollow button? Tell me in the comments below.
Oh, and don't forget to follow me on Twitter! I'll probably follow you back 🙂 #cheeky
---
---