Recently, I've been thinking about the amount of money we spend on food each month.
Basically, it's far too much.
There's just the three of us, but we can easily drop £100 a week at the supermarket – and, to be honest, I don't really know why. I cook mostly from scratch and don't buy a lot of junk, but we also just aren't careful. The food bill quickly adds up and it seems like a place where we should try to start making savings.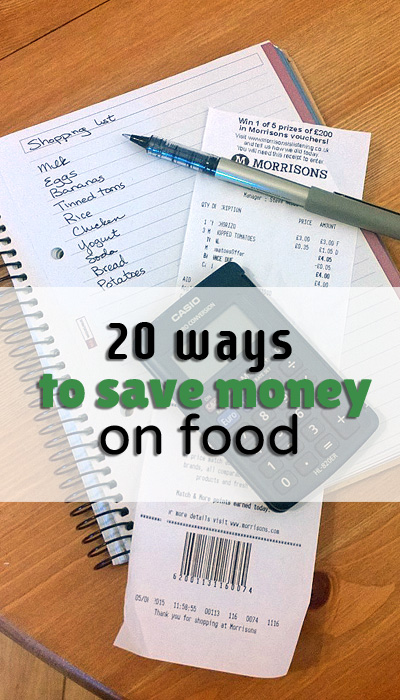 In fact, I've decided to set myself a challenge to get our spend on food down to just £200 per month.
While I don't expect to manage that in the first month, or even the second, it's something to work towards.
But how to do it?
I wasn't entirely sure where to start with my quest to lower our shopping bill. I mean, I had a few ideas, like stopping myself from over-buying on fruit and vegetables, and trying to use up what we have in the cupboards and freezer. But what else?
I've spent a few days researching the topic and realised that I actually already knew most of the suggestions. The thing was, I wasn't putting them into practice. So, I have come up with this list of 20 rules that we will now be following to keep our food costs down.
Planning and food storage
1. Use up everything in the fridge/freezer/cupboards first.
2. Make a weekly meal plan and stick to it.
3. Plan more meat-free meals; at least one a week.
4. Keep better track of use-by dates.
At the supermarket
5. Make a shopping list and stick to it.
6. Don't shop when hungry.
7. Avoid going to the supermarket for "just a couple of little things".
8. Look for alternative places to shop – online, discount supermarkets, local markets etc.
9. Check discount shelves first.
10. Don't fall for multi-buy "bargains" unless it's something I would have gotten anyway, and which won't go off.
11. Buy dry goods in bulk wherever possible (but also check prices to ensure it will actually save money).
12. Opt for more generic brand items.
13. Choose cheaper cuts of meat.
Preparing meals
14. Freeze bread and take out what we need.
15. Opt for more frozen fruits and vegetables.
16. Cook from scratch and make rice, jacket potatoes and mash the 'traditional' way, rather than using microwave versions.
17. Bulk-out dishes with cheaper (and healthier!) ingredients like vegetables and grains.
18. Get creative with bits that might be otherwise thrown away, such as bread pudding from loaf ends or soup from unused veggies.
Eating
19. Start with smaller servings and go for seconds (and thirds and fourths) if still hungry.
20. Eat meals at the dining table instead of on the sofa, since people tend to eat more when watching TV.
So that's it! Twenty "simple" solutions to get our food bills under control! Now the trick is to actually do them…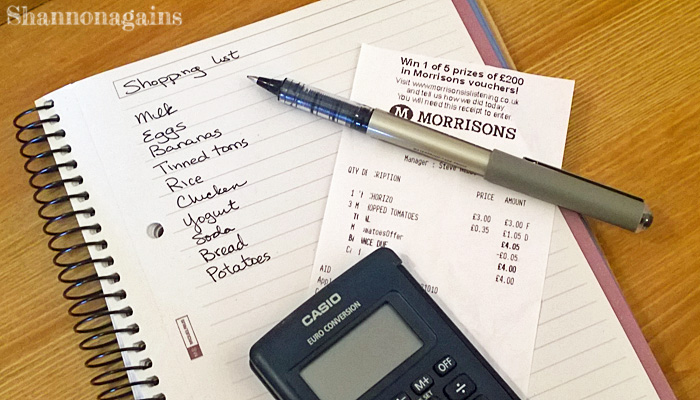 Sources
I went through a lot of webpages as I was researching this topic, and I can't remember all of them. But these were a few that were particularly useful or interesting
How do you keep your food costs under control? Did I miss any tips in my list above? Please share your suggestions in the comments section below.
And be sure to keep an eye out for future posts on this topic – it's going to be a recurring theme on this blog. (In fact, why don't you follow me on Bloglovin or follow me on Facebook? That way, you won't miss anything!)
---