Travelling with kids is a lot of work – and since little ones change so quickly, you never can be sure what to expect from one trip to the next.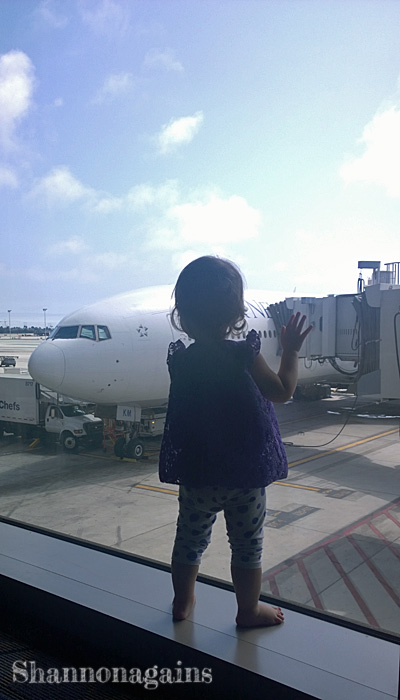 In June, Pumpkin had her third transatlantic journey. Considering she's not even a year and half old, I think she's pretty well travelled already. (Update: If you'd like to see what was in her bag at 28 months, check out my airplane busy bag for two-year-olds.)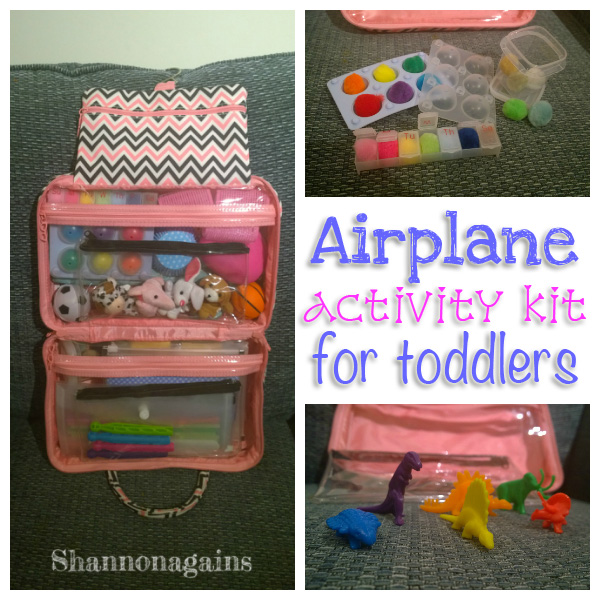 For her first two trips, she was good as gold – but I was dreading the journey this time around. She wasn't walking for the previous trips and, these days, restraining her results in loud screeches until she gets her way. She can't even sit still for the duration of Let it Go anymore, so an 11-hour flight seemed… well… impossible.
So, I decided to make sure we had plenty to keep her brain – and little fingers – busy.
After some internet browsing, I came up with a few tips:
Variety – so something new could be introduced periodically.
Cheap and cheerful – if something falls under an airplane seat, it's better to be able to write it off than go digging for it.
Mess-free – if it splatters or sticks or goes gooey, it's not for the airplane.
Compact – the carry-on allowance is pretty limited and travelling with a toddler means there's a lot more to bring along (nappies, changes of clothes, bottles…).
Unlikely to be eaten – while she doesn't tend to put stuff in her mouth any more, I tried to choose things I thought Pumpkin would be less likely to try to eat.
Easy access – the toys needed to be within easy reach throughout the flight.
The lap factor – since she didn't have her own seat on the plane, there was the chance Pumpkin would spend those 11 hours on my lap – the toys needed to be suitable for that.
Pumpkin's preferences – the toys needed to suit Pumpkin's current development stage, and reflect what she likes to play with.
With all this in mind, I made a plan to create a set of busy-bags for the airplane, which I could pull out one at a time and give to Pumpkin.
Here's what I came up with:
The bag
The bag I bought to put everything in came from Wilkinson's. It's technically an overnight bag, but it had everything I was looking for – clear sections that could be zipped shut and plenty of space.
Best of all was the hook – meaning I'd be able to hang it to the back of the seat in front of me. It would be out of the way but also in easy reach.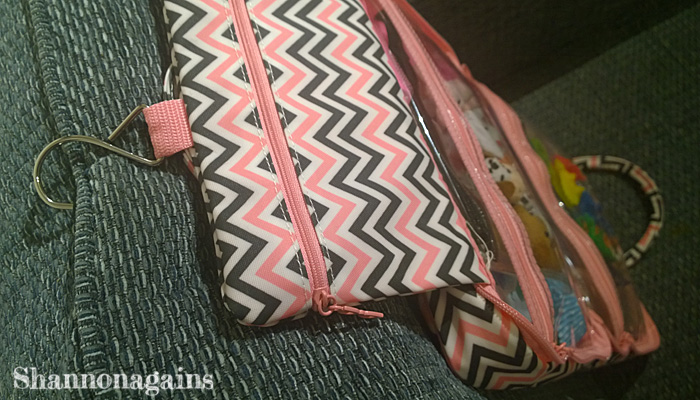 The toys
Since Pumpkin is really into sorting and moving items from one container to another these days, I focussed on those activities for the activity kit.
And then I went shopping.
I browsed 99p stores, I wandered the aisles at Hobby Craft and I spent a lot of time at Wilkies.
Oh, and everything that went in that bag? I packed duplicate in my checked luggage – that way anything that got lost on the journey out could be replaced it for the journey home.
---
Note: nothing in this kit would be considered suitable for a child under three years old. If you're making your own version, please bear this in mind.
I was very careful to select items I 'trusted' Pumpkin with and I never took my eyes off of her when she was playing with any of them. You know your child best – please don't take risks by giving him or her something that could be a choking hazard.
---
Did it work?
Yes! Very well actually.  (phew!)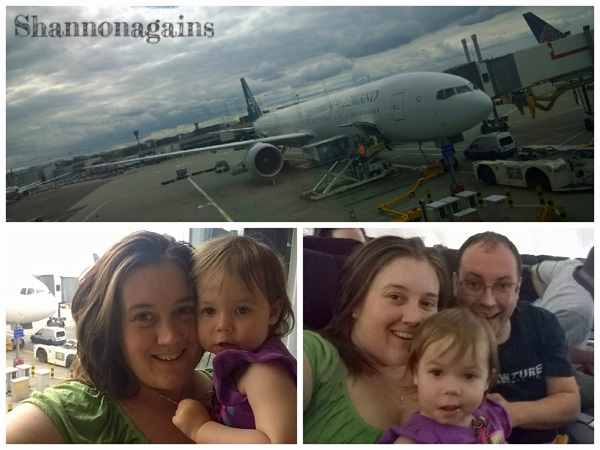 We were lucky to end up with a bulkhead seat, which meant more leg room (that is, play space). And Pumpkin's favourites were definitely the pompoms and dinosaurs.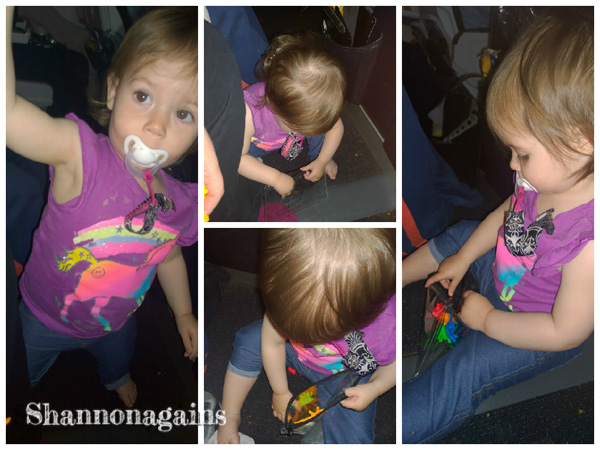 She probably spent an hour taking dinosaurs out of the pencil case and then putting them back in.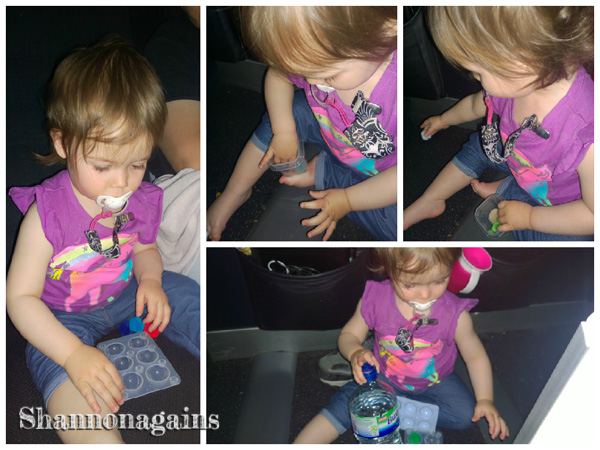 Eventually, all the sorting wore her out and she fell asleep – thank goodness for the empty seat next to me too!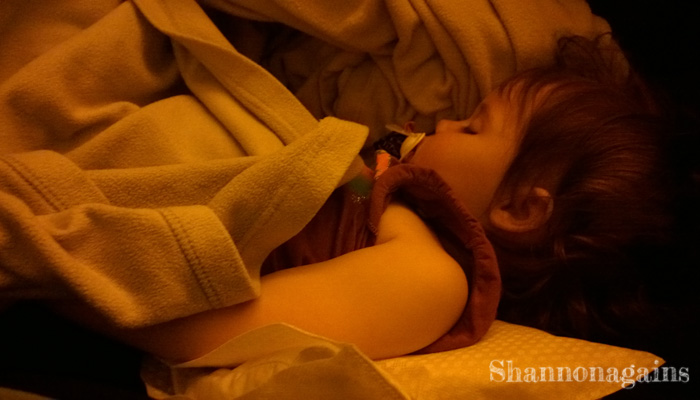 The activity kit also turned out to be a bit of a lifesaver on the roadtrip part of our holiday as well.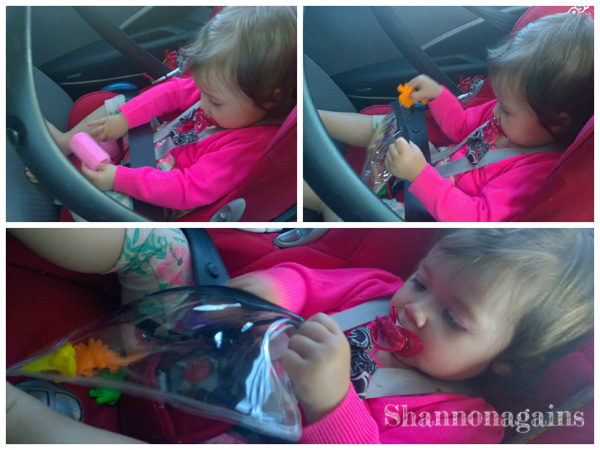 ---
Have you made any busy bags for your child? I'd love to get more ideas – we have a road trip to Scotland coming up in a few weeks!
---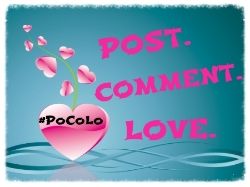 ---