Blogging is a full time job.
This is something professional bloggers say all the time – and I agree completely.
Putting together a fabulous blog post takes time and writing is only a fraction of what blogging is all about. There's also photography, promotion, social networking, reading other blogs, replying to comments, coming up with post ideas and communicating with brands.
So, yes, blogging – and everything that goes with it – is time-consuming. And, while there may be successful bloggers who manage to be insanely popular without putting in a lot of time, they are very rare – and that's certainly not the case for any bloggers I know.
But what about those who don't have the time to put in all that work?
That's me! I would love to be a full-time blogger. But I have to hold down a more "traditional" job. I'm also taking care of a toddler and I have a editorial/proofreading business that I'm trying to get going.
I'm not saying I have it harder than anyone else – that's certainly NOT the case. But, I do have trouble finding enough hours in the day.
So, unfortunately, blogging has to take a back seat sometimes.
Since I'm pretty sure I'm not the only blogger in this situation, I thought I'd write this post to reach out and say you're not alone. I also wanted to some of the lessons I've learned over the last few months about trying to find a balance.
1. Burning the midnight oil doesn't work
Okay, so it does work if you do it occasionally. But staying up until the wee hours every night just to crack out a blog post – or three? It's just not sustainable. You're going to start feeling it during the day and that means all the other things you're trying to do will suffer. Plus, your blog posts won't be as good. Nobody writes well when they're cross-eyed from exhaustion.
Then, one day you'll burn out, You'll throw your arms in the air and say "F*** it." After that, you and the kid will spend the day in your pyjamas, watching Frozen on a loop and eating a loaf of toast.
(I may or may not be speaking from personal experience here.)
2. Find tools that work for you
There are loads of productivity tools that can help streamline your blogging. My personal favourite is one that tweets out links to old posts on a schedule. This means that even if I have a day – or 12 – that I can't pay attention to my blog, at least it'll be getting a few visitors from those tweets.
Other tools I use include:
Klout – I try to schedule a week's worth of tweets to promote each post I write. That way if life gets in the way, at least my latest posts will continue to be promoted on Twitter. I'm sure there are better tools than Klout for this, but I haven't looked into it yet.
Publicize – This is part of the Jetpack plugin on WordPress. It automatically updates your social network accounts whenever you publish a blog post.
Evernote – I keep a running list of blog post ideas on Evernote and I have the app on every device I own. That way, I can write down ideas whenever they come to mind.
3. Compromise
If there's one thing I'd like to change about my blog, it would be the photographs. I'm a pretty avid photographer and I love editing images to get them perfect.
But, I don't have time tweak every photo that goes on my blog. I wish I could – it would probably be a big improvement. Instead, most of my pictures get basic colour correction and sharpening before I watermark them and save them for web use. It's a compromise I've consciously made to save time, and my sanity.
4. Be more picky about reviews
When I started blogging, I jumped on every review opportunity I found. Then I got stressed because I had a stack of products to review and not enough time.
Sure, getting review products is great – but it's easy to get carried away.
At one point, I spent a two hours working on a review of a product that I didn't want or need, and which cost less than £5. That's when I realised I needed to change my ways.
5.  Don't compare yourself to others
This is my personal blogging mantra.
It's so frustrating to see new bloggers come on the scene and quickly overtake me in terms of followers, rankings and paid work. But we're all different and we each have our own barriers to overcome.
Just keep trying to improve your own blog and be happy for your blogger colleagues because they're working hard too.
I need to listen to my own advice on this more.
6. Create a blogging workflow
A workflow is basically a checklist of things that need to be done for every blog post. I've found that establishing a workflow has helped me be more productive and it helps to keep me on track.
7. Re-assess your goals
So you want to be the next Honest Mum, Tiger Lilly Quinn or BrummyMummyof2? Sorry to be a downer, but maybe that's just not going to happen right now.
So, instead of working yourself into the ground trying to be like those super-successful bloggers, take a step back and remember why you became a blogger in the first place. Think about who your audience is and try to find your niche – again, this is something I need to do more of, but I'm getting there slowly.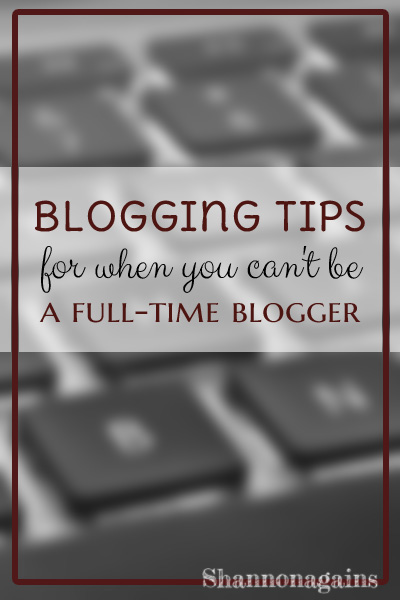 Are you a blogger, but can't give your blog a full-time commitment? Tell me how you deal with being a part-time blogger in the comments below – I'm sure there are plenty of things I missed!
---