For the last two years, I've been waging a minor battle with a seven-inch tall giraffe named Sophie.

It wasn't long into my pregnancy when this rubber ruminant came on my radar.
From what I can tell, there's a Sophie phase during most pregnancies, when the hypnotic gaze of this miniature giraffe's black eyes captures a woman's attention and won't let go.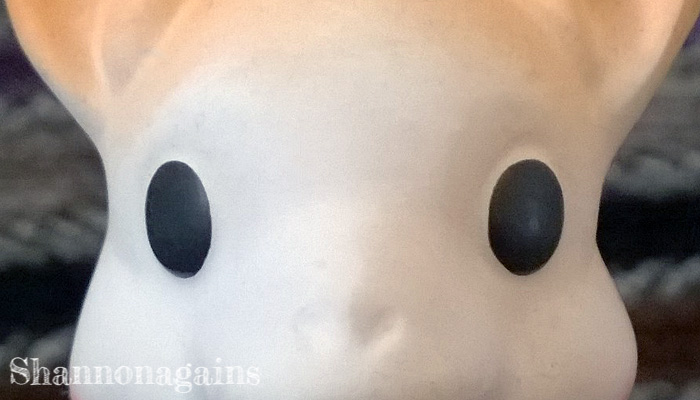 Hormones are probably involved too.
Yes, I fell in love with Sophie la Girafe, just like almost every other pregnant woman who sees her. But, somehow I managed to escape her adorable rosy cheeks and French allure. How?
Maybe it was sticker shock.
Maybe it was my tendency to eschew things that are too trendy.
Maybe it was my reverse-nesting, which led me to throw out or donate about a quarter of our belongings over the course of my pregnancy.
Or maybe it was something more primal. The same instinctive mistrust that prevented our caveman ancestors from running up and cuddling a sabre-toothed tiger.
In any case, Sophie and I parted ways. I had faced her undeniable charms and escaped with my bank account unscathed.
My concession to the bewitching mammal? I added her to the baby's wish-list. Fate, I thought, could determine whether Sophie and her Hevea-sap latex would come into our lives.
A few months later, my little girl was born. Baby gifts flooded through our front door, but the only gift-wrapped giraffe to arrive was generic and plush.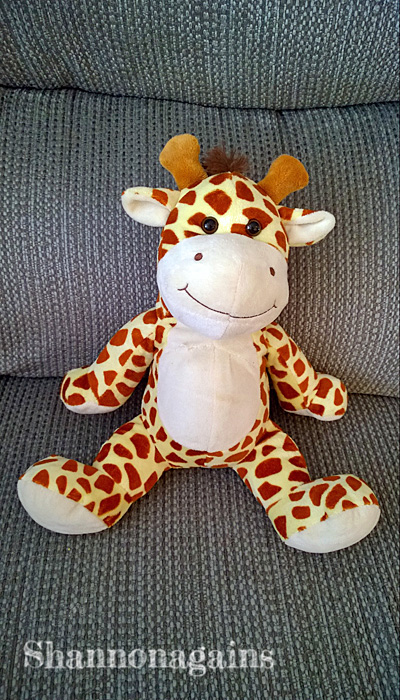 There was also a winter suit that turned our adorable newborn into an even more adorable human-giraffe hybrid. But our home remained Sophie-free.
As the months went on, Sophie and I crossed paths often. She was there, in another baby's tiny grasp, when I took Pumpkin to be weighed. She was on the train, in the supermarket, on Twitter and Facebook. Always calling to me, singing her silent siren song of the savannah.
Then, one day at playgroup, my suspicions of the gallic quadruped were confirmed. My daughter had gotten hold of a Sophie and was gnawing on its neck with all her might – doing her best to make up for eight months without a chewable giraffe.
That's when I learned Sophie's dark secret.
She squeaks.
With every gum-soothing jaw movement my baby made against the suede-like rubber, Sophie let out a gleeful squeak. The noise reinforced the chewing and grew louder and more constant.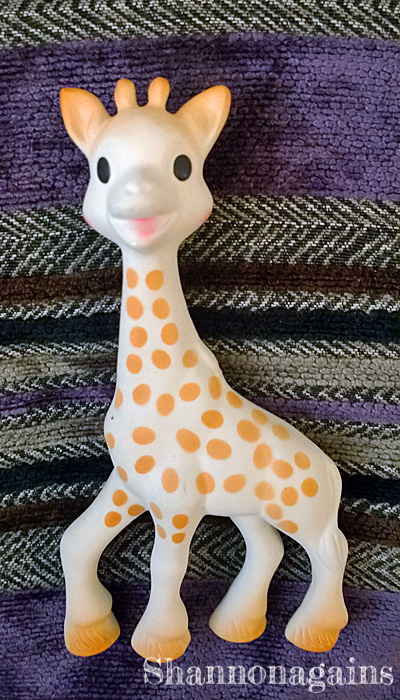 The muscles in my shoulders tensed; the sound pierced my soul. I saw Sophie for what she really was and knew I could not allow her into our lives. Seconds passed as I desperately searched for another teething toy to distract my daughter. I successfully made a swap and hid the giraffe from sight.
After our narrow escape, I became more suspicious of Sophie. She found her way into our home at Thanksgiving when a well-meaning friend brought a set of Sophie the Giraffe books for Pumpkin. They proved popular and the sneaky squeaky was one-step closer to infiltration.
Then, nothing.
For a few months, Sophie laid low. Quietly waiting, preparing to strike when my guard was down.
And it worked.
Last month, we started to wean Pumpkin off her dummy. We were doing well with a mostly cold-turkey approach. The dummy was put away at breakfast, made an appearance at nap time, then disappeared until it was time for bed.
I was getting up the nerve to try nap-time sans dummy. But my girl came down with a tummy bug and the dummy came back.
Then teething hit.
Pumpkin's final molars are coming in and she has started chewing on things again. On Sunday, four chewed-through dummies went in the bin before lunch. Something stronger was necessary and Daddy-man turned to Amazon to see what he could find.
A few minutes later, he came into the kitchen looking triumphant.
"I think we should get one of these," he said and turned the iPad.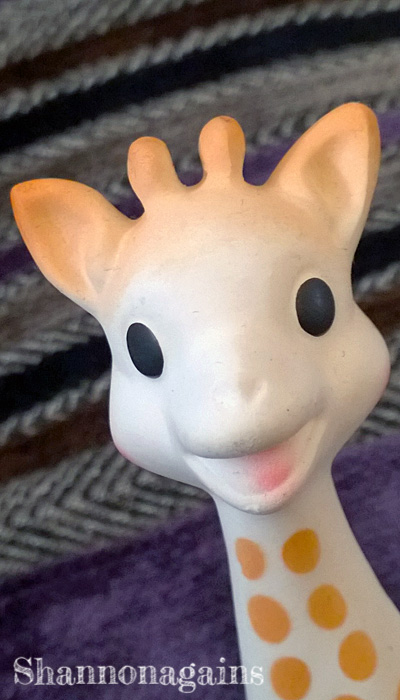 There was Sophie, staring back at me with an evil-genius glint in her black eyes. Her jolly smile, a smirk.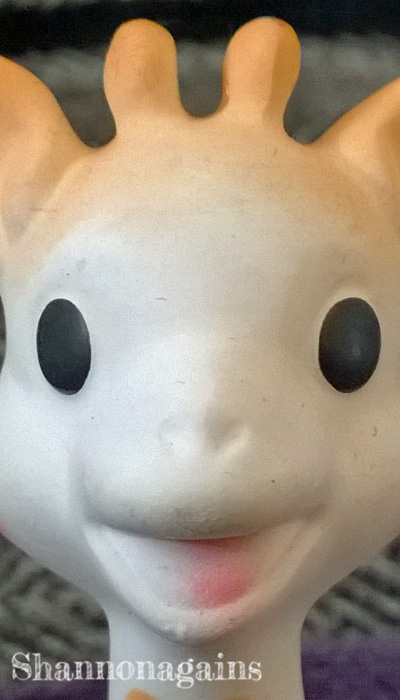 "It's one of the best selling teethers on Amazon," my beloved boasted, his inner hunter-gatherer was delighted to be providing for his family.
"Sophie," I muttered. She'd made her move, and hit where it hurt. I hadn't been expecting her to go after my husband.
"There are more than 3,000 five-star reviews," he continued. He didn't understand what was happening. Why this cute little toy – something that should have elicited a squee of joy – was causing me to look so dejected.
I tried to fight back. But I knew the giraffe had won. I pointed out that she squeaked and that the sound might actually drive me mad, but at that moment, our little girl started crying in pain again and I extracted another destroyed dummy from her hand.
I dropped my head in submission.
"Go ahead. Order it." My white flag was up. The battle was over.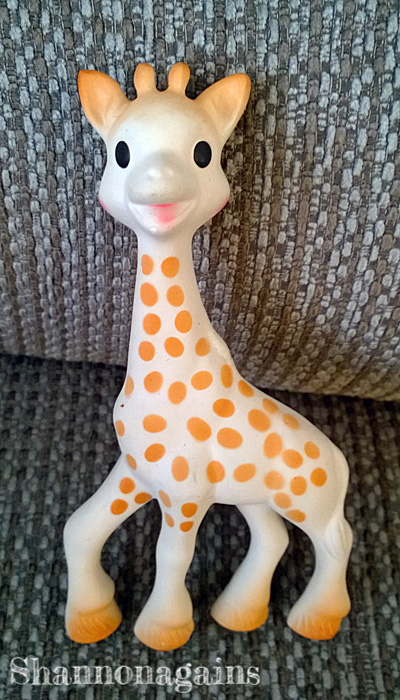 Sophie arrived the next day, thanks to our Prime subscription.
Somehow, my daughter knew the parcel was for her. She helped me open it and as soon as the giraffe was out of the packaging, it was in her mouth.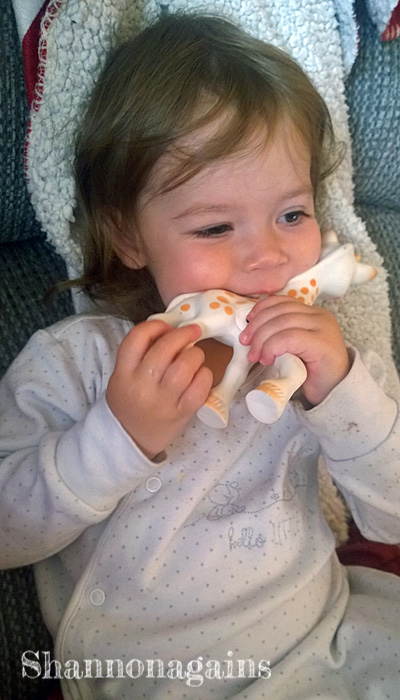 And I've been listening to Sophie's victorious squeaking ever since.
---