I've always loved being creative, but in recent years, I've had trouble finding creative outlets that suit my lifestyle.
For example, I have a gorgeous sewing machine that hubby got me for my birthday a couple of years ago, but it requires a lot of set-up and preparation to use… something that doesn't mesh well with living in a small flat with a toddler.
I also love baking and decorating cakes. But I'm trying to lose weight. While my efforts to shed the pounds haven't gone particularly well so far, making cakes (and sampling the batter) is not going to help the situation.
And then there's photography, which I've written about on this blog before. I really love taking photos, but I really do struggle to get out of the house with my camera – and there are just so many times I can take a photo of the tree across the street.
Yes, they're all excuses. But they're also real barriers to my creativity. So, last autumn, I took up drawing.
It started, more or less, with this peacock, which I drew in my bullet journal. It's based on a notebook cover that I had, and I drew most of it in a Tesco cafe while Pumpkin was napping.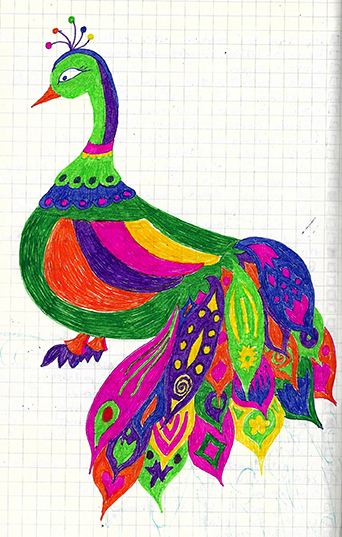 I haven't blogged about my bullet journal yet, but I plan to do that pretty soon. Anyway, it turns out that there's a drawing style that's very popular in bullet journaling community – patterns, geometric shapes, doodles, zentangles and mandalas. (I highly recommend this mandala tutorial from Boho Berry – it even includes a video.)
Drawing in this style isn't complicated. It just takes a lot of patience and an eye for detail. Some really fine-tipped pens is also helpful. It's also a bit meditative, giving a chance to focus on something simple and quiet for a little while.
Best of all, all I needed was my sketchbook or journal, some pens and a few spare minutes and I could create something.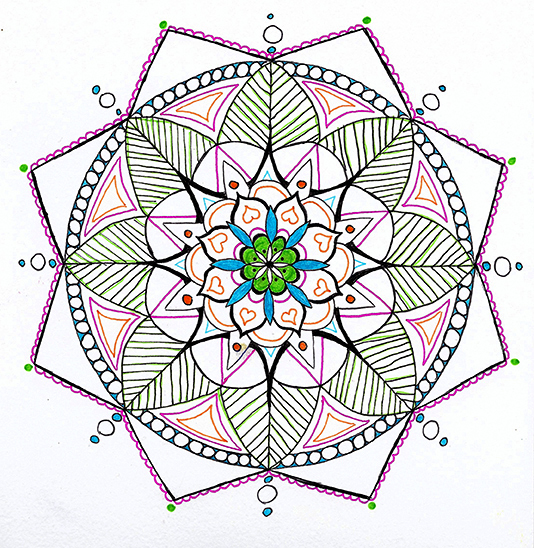 By Christmas, I was really hooked and drew this tree while I was up at the in-laws'.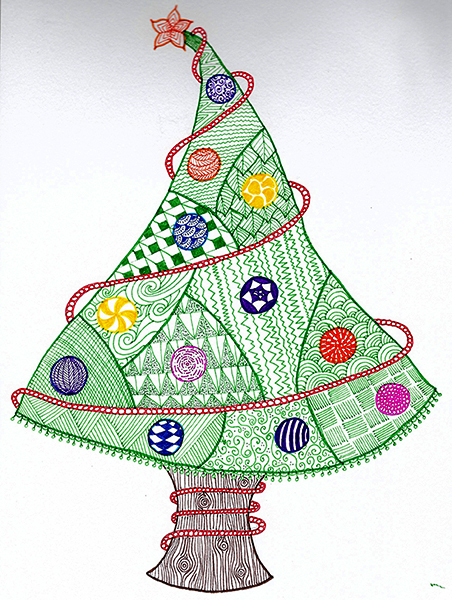 In January, I decided to do a month-long doodle-a-day project.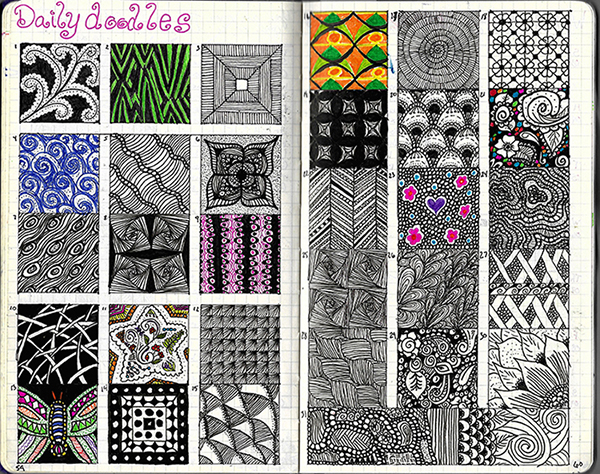 And in February, I stepped up the challenge with a 30-square grid – one for each day of the month, plus an extra (leap year). The squares all came together to form a single picture. More or less.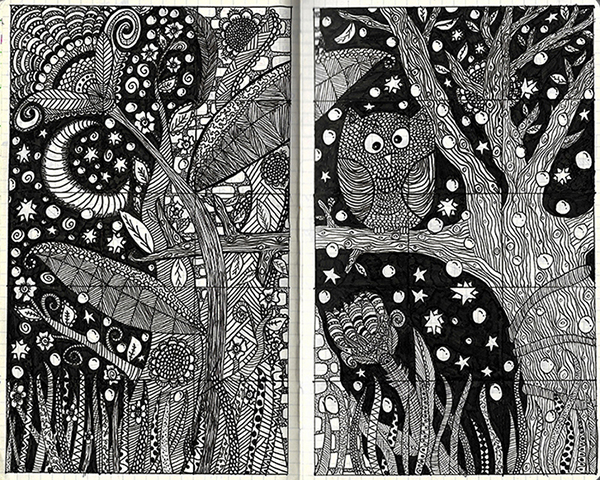 It took me a little longer than 30 days though. To be perfectly honest, I only just finished the bottom half of the second page earlier this week. I got a bit out of the habit of working on it – but I was also working on other drawing projects, which I'll write about soon.
I'm actually planning on blogging a lot more about my drawing and painting in the future. I'm still very new at this, but I'm really enjoying it and I really want to improve. So, if you have any constructive comments, please leave a message below. But be nice – I'm well aware that I have a long way to go. 🙂
---