Lemon curd is one of my favourite foods – I love putting it on meringues, spreading it on toast and using it as a fruit dip.
But being mostly butter and sugar, it's very high in syns (usually around one syn per teaspoon).
When I set out to find a more Slimming World friendly version, a quick Google gave plenty of syn-free options, but all of them were butter-free. And without some buttery flavour, I don't think it's worth bothering.
So, I did a bit of experimentation and was really happy with the finished results. A batch is easy to make, only 1.5 syns and will last a few days in the fridge – meaning I get several days of lemony goodness for a small amount of effort.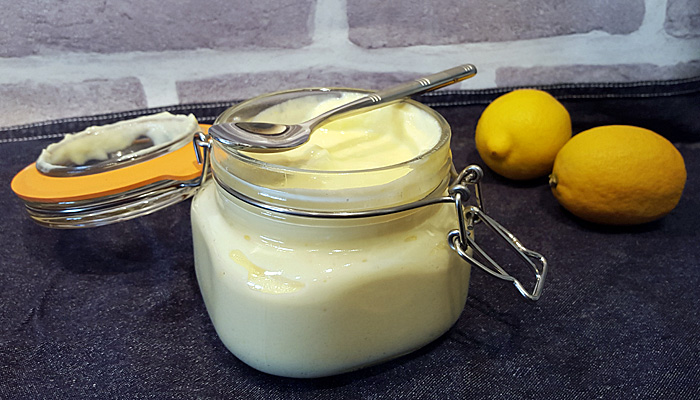 To make it, you'll need lemon juice, artificial sweetener, eggs, Butter Buds and a Greek Muller Light. (Full recipe at the bottom of this post).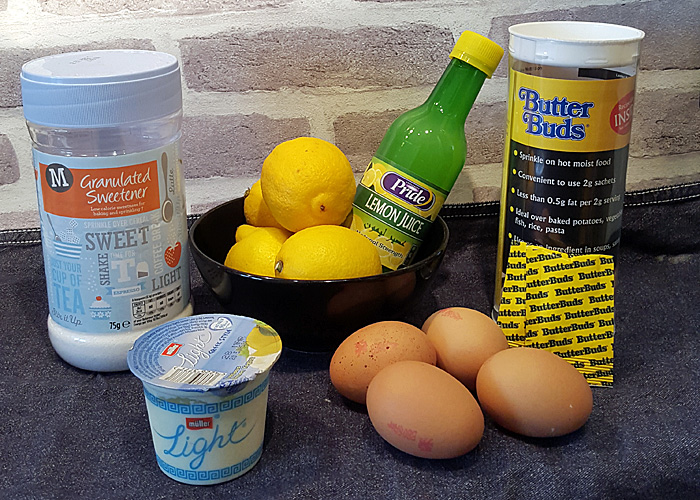 If you don't know what Budder Buds are, they're little granules of dry butter. They're great on jacket potatoes and on corn – anything hot. And they add a lovely buttery flavour for just half a syn per sachet.
Butter Buds are available from Lakeland or on Amazon – they're a bit pricey, but a pack lasts a long time. If you don't have any butter buds, you can make the lemon curd without it, but it won't have that buttery goodness.
You can also use any type of yoghurt – but I like the thickness of the Greek Muller Light – it also adds some extra lemon zing and sweetness.
You can use fresh lemon juice, or the stuff from a bottle. The real lemons are a bit better because you can get the zest from them too – but if you don't have them, it's not a big deal. My first batch used lemon juice from a bottle and it tasted fab.
First, mix the lemon juice, zest, eggs and sweetener together.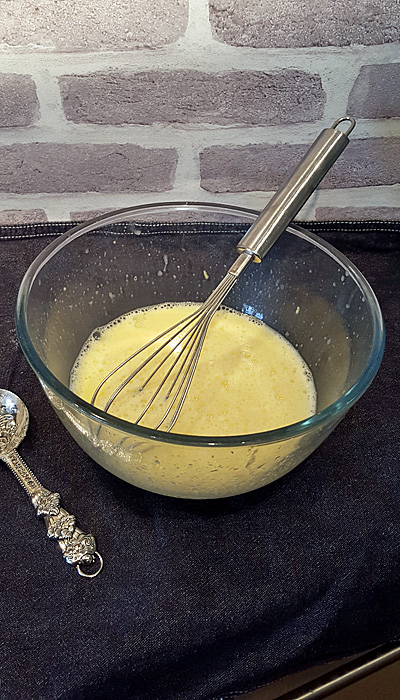 Then, put the bowl over a pot of simmering water, and stir until the mixture gets nice and thick. Stir constantly, otherwise you'll end up with small chunks of scrambled egg.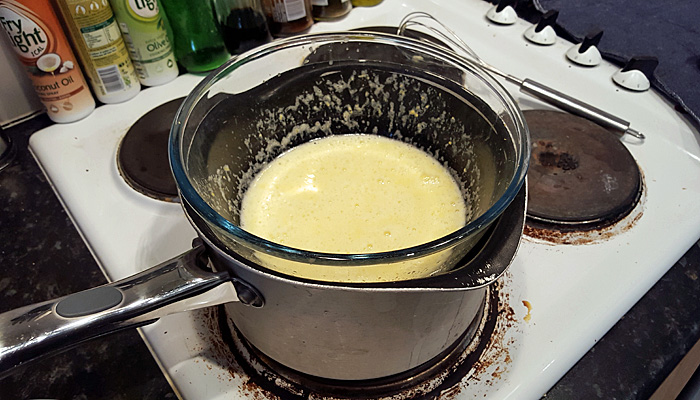 Once the mixture is thick, take it off the heat and allow it to cool for a few minutes.
Then add the Butter Buds, yoghurt, and additional sweetener to taste.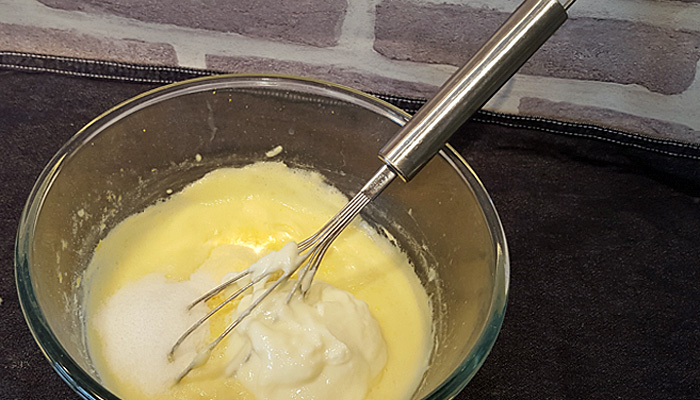 Finally, put it into a container and refrigerate.
And, of course, enjoy!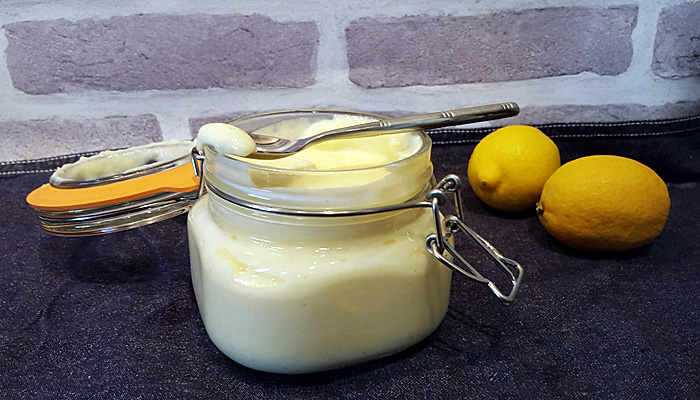 Like I said, I like it on meringues, toast and fruit, but it's also nice on biscuits, as a topping or filling for cakes… or (if I'm totally honest) on its own by the spoonful.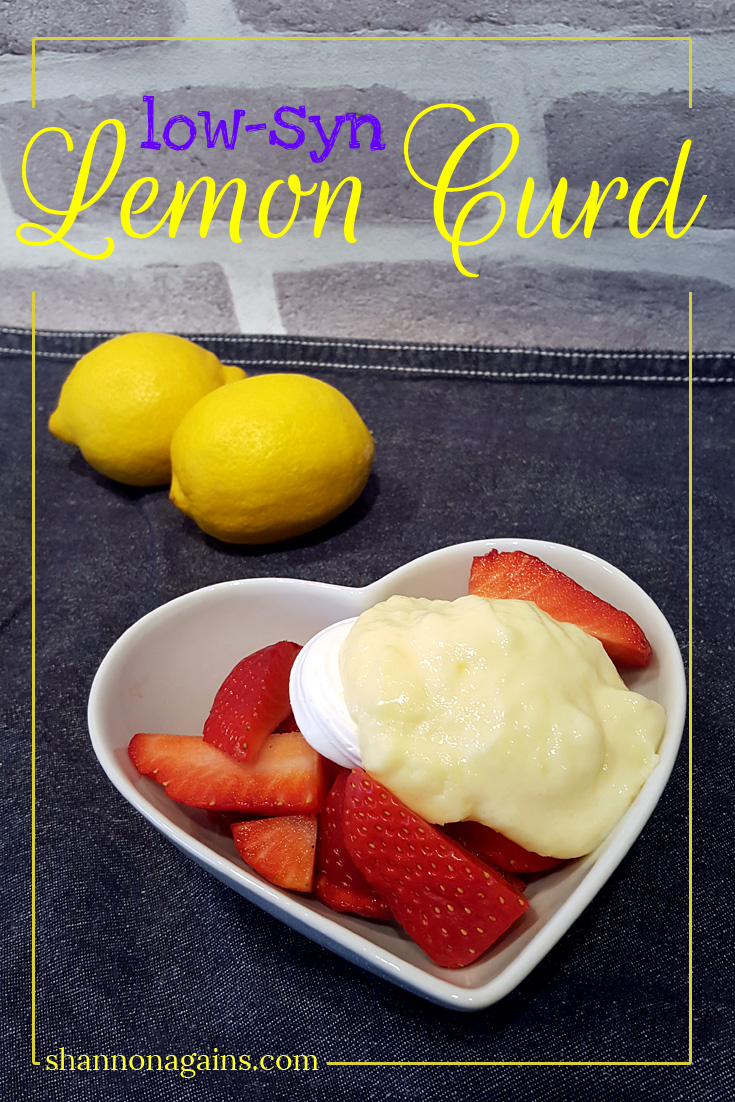 Here's the recipe:
---
Low-syn lemon curd
Ingredients
8 tbsp lemon juice (2-3 lemons) and zest if using fresh lemons
4 eggs
3 tbsp sweetener (or more to taste)
2 sachets Butter Buds
1 Lemon Greek Muller light
Method
Mix together lemon juice, zest, sweetener and eggs.
Place bowl over a pan of simmering water and stir constantly until the mixture is thick.
Remove from heat and allow to cool.
Add yoghurt, Butter Buds and sweetener to taste.
Put into container and refrigerate.
1.5 syns for the entire recipe. Ideal served with mini meringue nests (normally 1 syn each) and fresh fruit.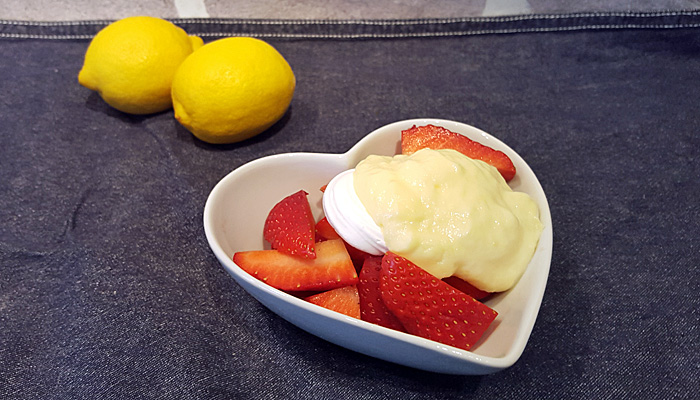 ---