I used to make cakes. A lot. I made cakes for birthdays, anniversaries, bake sales and just because. I even made a wedding cake for one of my best friends.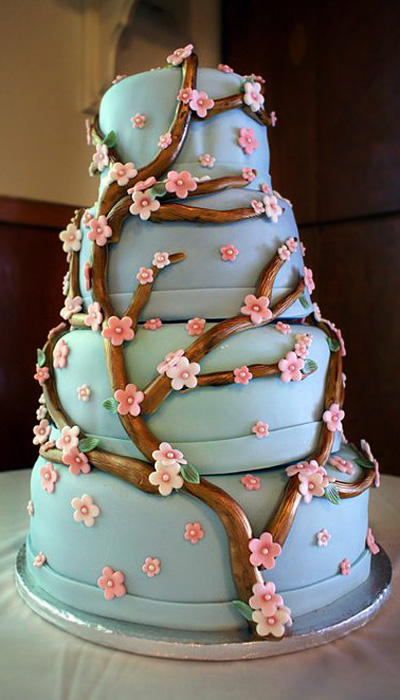 And then I stopped baking cakes. It happened around the same time as Pumpkin was born.
Coincidence? Nope.
While the actual mix-it-up-and-pour-it-in-a-pan part of making a cake is fairly easy, the decorating bit is time-consuming, tiring and requires some concentration. Three things I don't need any more of in my life.
I also don't need the calories.
But I do miss making cakes. I love the chance to be creative. Also, I have to admit it's nice getting the praise that a yummy and good-looking cake elicits.
So, as Pumpkin's second birthday approached at the beginning of February, I started thinking about what to make for her. Last year, we celebrated with cupcakes from Gregg's and she slept through the cake portion of her birthday anyway.
This year, however, I knew she'd be more aware of what was happening and I figured it was time to put in the effort.
While watching CBeebies one day (because that's what I do now), I realised what the perfect cake for my little Mr Tumble fan-girl: a spotty cake based on Mr Tumble's spotty bag.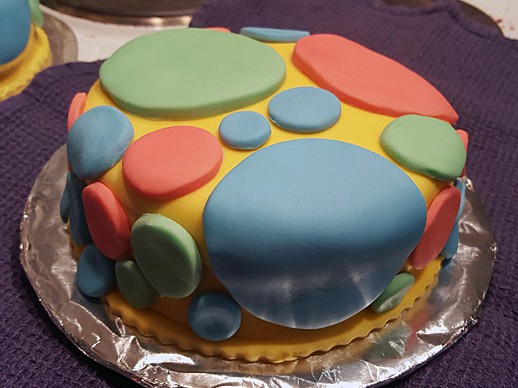 (I actually made two – one for her actual birthday, and one for playgroup the next day.)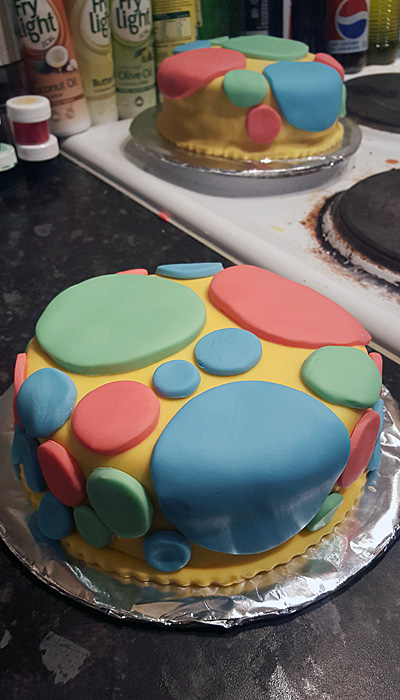 The design was ideal because it didn't take too much artistic effort – my sugar-paste skills are pretty rusty – and it was be something Pumpkin could recognise.
And she seemed pleased enough with it. But, let's be honest here: she's two. If she can eat it, she likes it.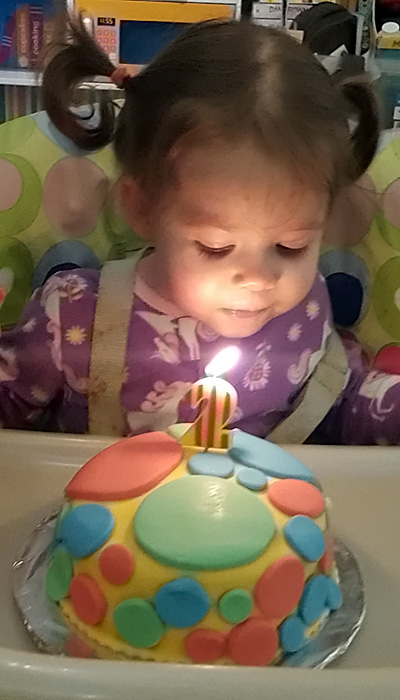 But my favourite part of the cake? (Besides eating it?)
It was spotty inside too!
Cool, right? I was super-pleased with how it turned out. The effect of the spots inside was really striking and it got lots of lovely "Oohs" and "Ahhs" from the other mums at playgroup.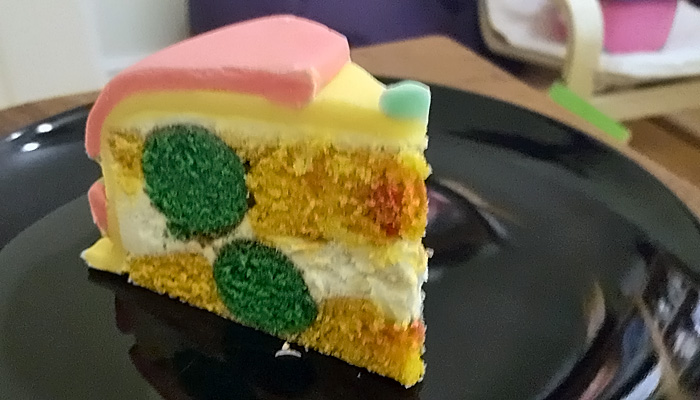 And it was easy too, although it took a while.
How to make a spotty cake
I started out with a basic vanilla sponge recipe. Nothing fancy. This one from the BBC Food website was perfect.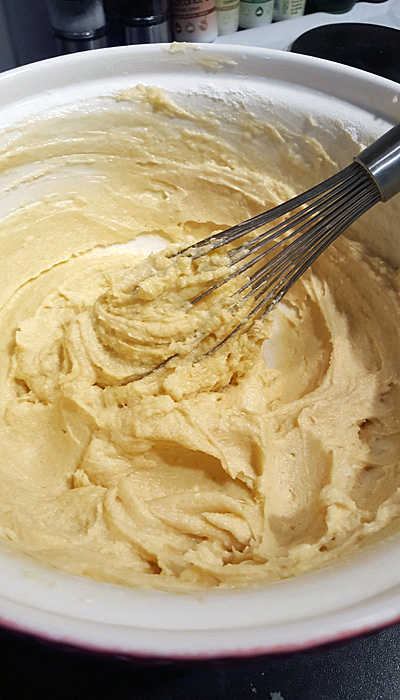 Once the cake batter was made, I divided it into various bowls and added food colouring.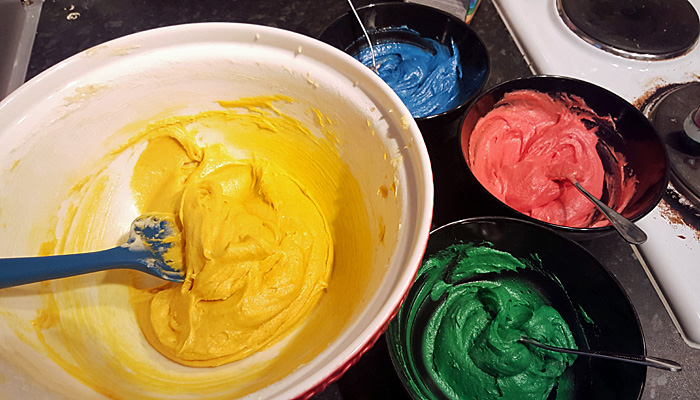 The big bowl had about half the batter and was coloured yellow. The three smaller bowls had equal parts of the remaining mixture. These were coloured red, blue and green.
I used the Wilton icing colours mostly because it's what I had. They also provide strong colours without changing the consistency of the mixture.
Then it was time to start making the spots for inside the cake. For this, I used a cake pop mould, which I got at the pound shop back before Christmas. (I actually bought it as a travel toy for Pumpkin, and it's normally full of pompons.)
I made the spots one colour one at a time: fill the mould, bake, cool, release, repeat.
It was a bit tedious, so if you can find a cake pop mould that does more than six pops at a time, I would recommend it.
The little balls also came out of the mould looking like flying saucers, so I trimmed them down with a pair of scissors.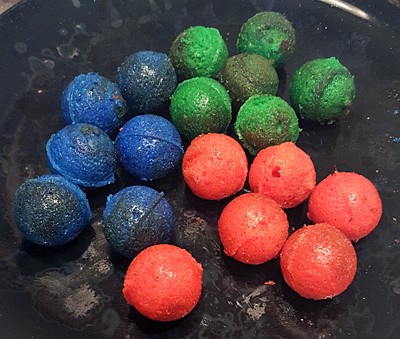 Once all the spots were made, it was time to do the cake.
In a lined cake tin, I put a very thin layer of yellow batter down, then added in the spots and topped them with some more yellow.
Then, I stuck the cakes in the oven to bake.
I did worry at this point whether baking the spots twice would mean they would be a bit dry or a weird texture – but they were fine.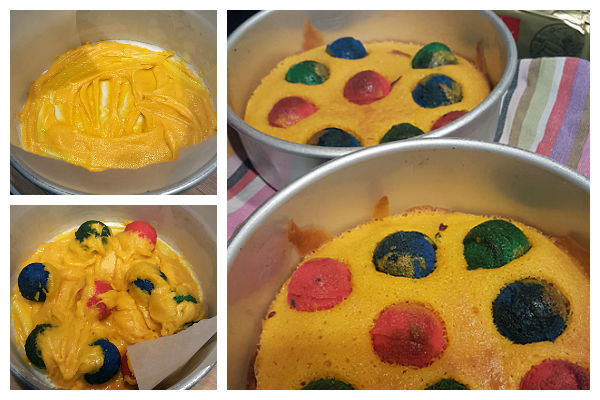 There was also the worry that I didn't have enough cake batter. To be honest, it would have been nice to have a little more, as the finished cakes turned out a bit uneven.
But I'm a firm believer that nearly everything in cake making can be fixed with lashings of buttercream, and that theory held true for this situation too.
Once the cakes were cool, I released them from the pans, placed them bumpy sides together with a nice thick layer of buttercream between, and gave them a crumb coating.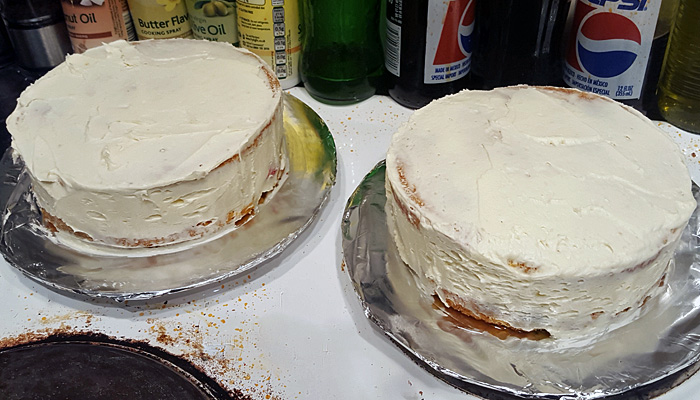 Then, I started colouring the fondant – lots of yellow for the base layer, and then green, blue and red for the spots.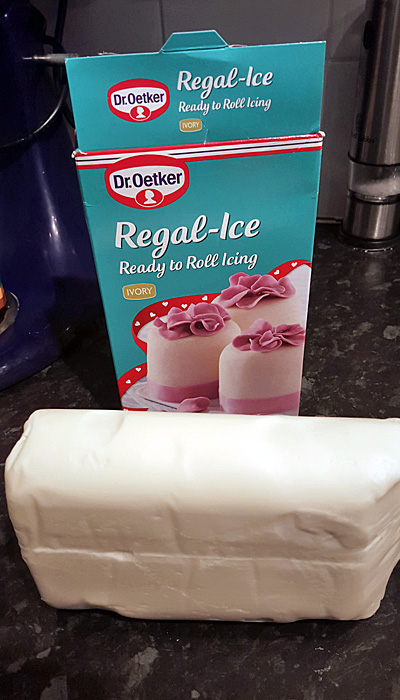 Side note/rant: One grandmother at the playgroup gave me grief for using pre-made fondant. I had to bite my tongue so hard to avoid telling her where she could stick her homemade fondant. If you prefer making it yourself, more power to you. But seriously? Life is too short and the stuff you get from the supermarket is just fine.
I rolled out a big piece of yellow and laid it over the cake. Doesn't it look like a giant Kraft Single there?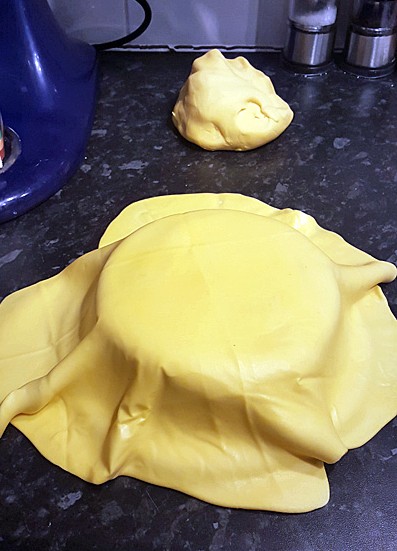 Then, I smoothed it all down and trimmed it.
Finally, I rolled out each of the other fondant colours, cut out circles of various sizes and stuck them on.
All done!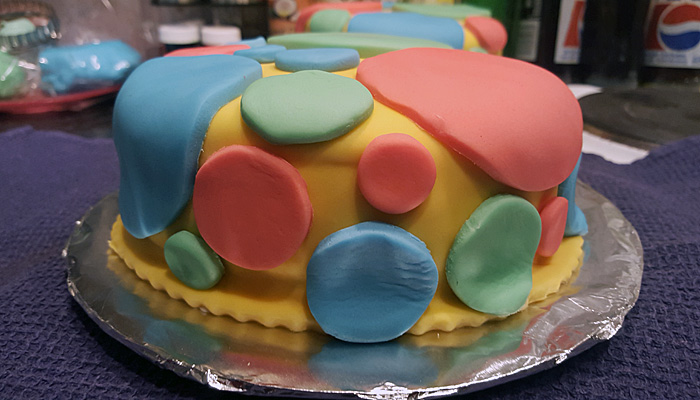 Now, I'll have to figure out something even better for next year…. Any suggestions?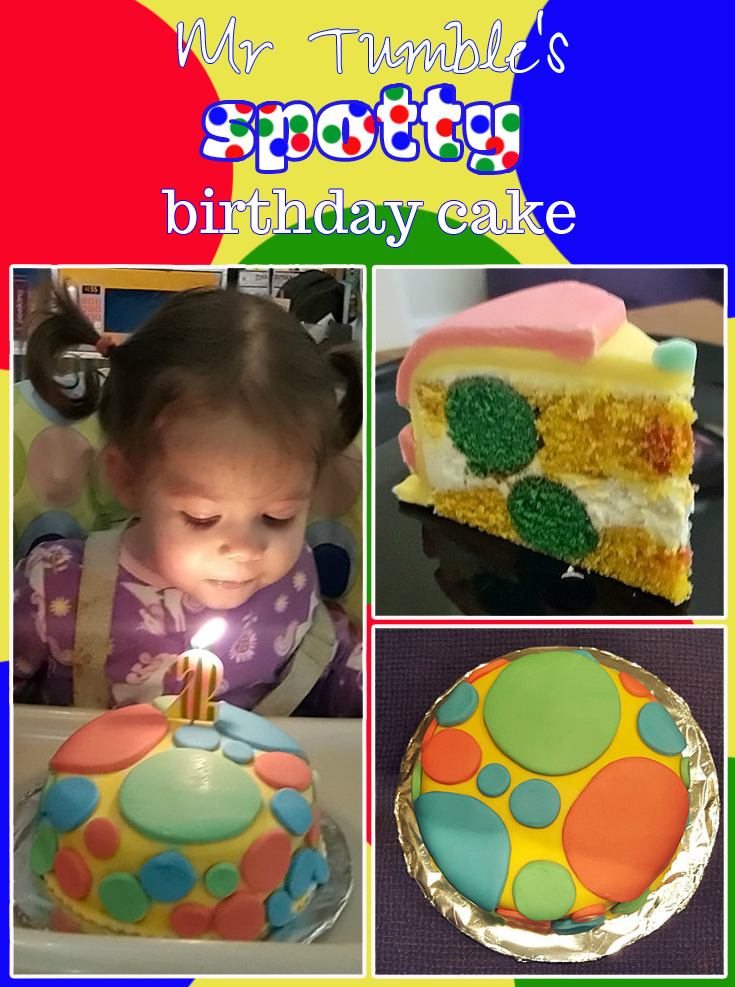 ---