For Pumpkin's second birthday (in February), we treated her to a trip to Sea Life London Aquarium.
Buuuut, I'm a terrible, TERRIBLE blogger, and I'm just getting around to posting about it now. In June.
Yikes!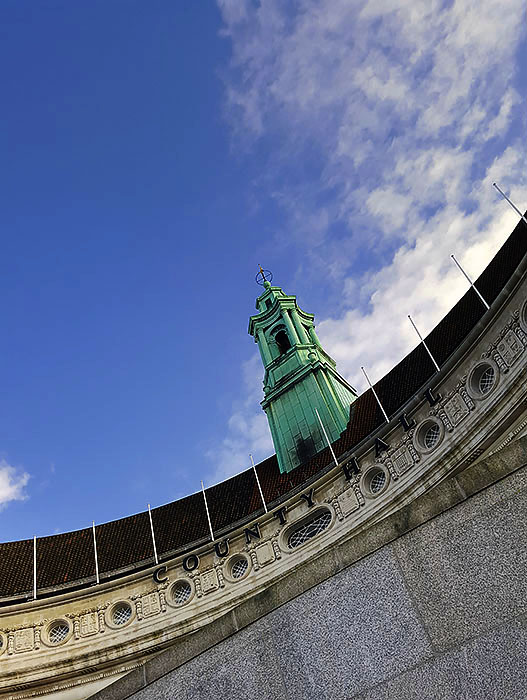 Anyway, Sea Life London Aquarium is in the basement of County Hall. It's a historic building, right on the Thames, in what I like to call the Tourist Trap. Its neighbours include the London Eye, a Shrek's adventure thing and the Namco Funscape.
It's also across the river from the Houses of Parliament, so offers a pretty great photo op.
I've always thought that Central London seemed like an odd spot for an aquarium. Most (maybe all) of the aquariums I've ever been to have been by the seaside.
That said, about 50 years ago, the Thames was declared biologically dead due to its high levels of pollution. Despite its muddy appearance today, the river has been transformed and it's actually one of the cleanest inner-city rivers in the world. So, maybe the banks of the Thames is the perfect place for an aquarium – a wonderful success story, right?
We went on a mid-week morning in February, so I wasn't expecting it to be too busy. (I've walked past on summer afternoons and the area has been swarming with people). But, it was even quieter than I'd expected, so we were able to walk right in without having to queue.
There's step-free access to the left of the main entrance, which was handy since we had the pram. I'd been planning to park it somewhere, but there wasn't anywhere to leave it, so it went in with us.
Walking into the aquarium felt a bit like going into a cave. It was so dark and there were several long, empty corridors. I guess that's the result of repurposing a 100-year-old building into a series of glass boxes full of water and fish.
The first glimpse we had of any sea life was through a transparent walkway – and the sharks were circling. It was a dramatic introduction, walking right over an apex predator, but it also felt a bit tacky….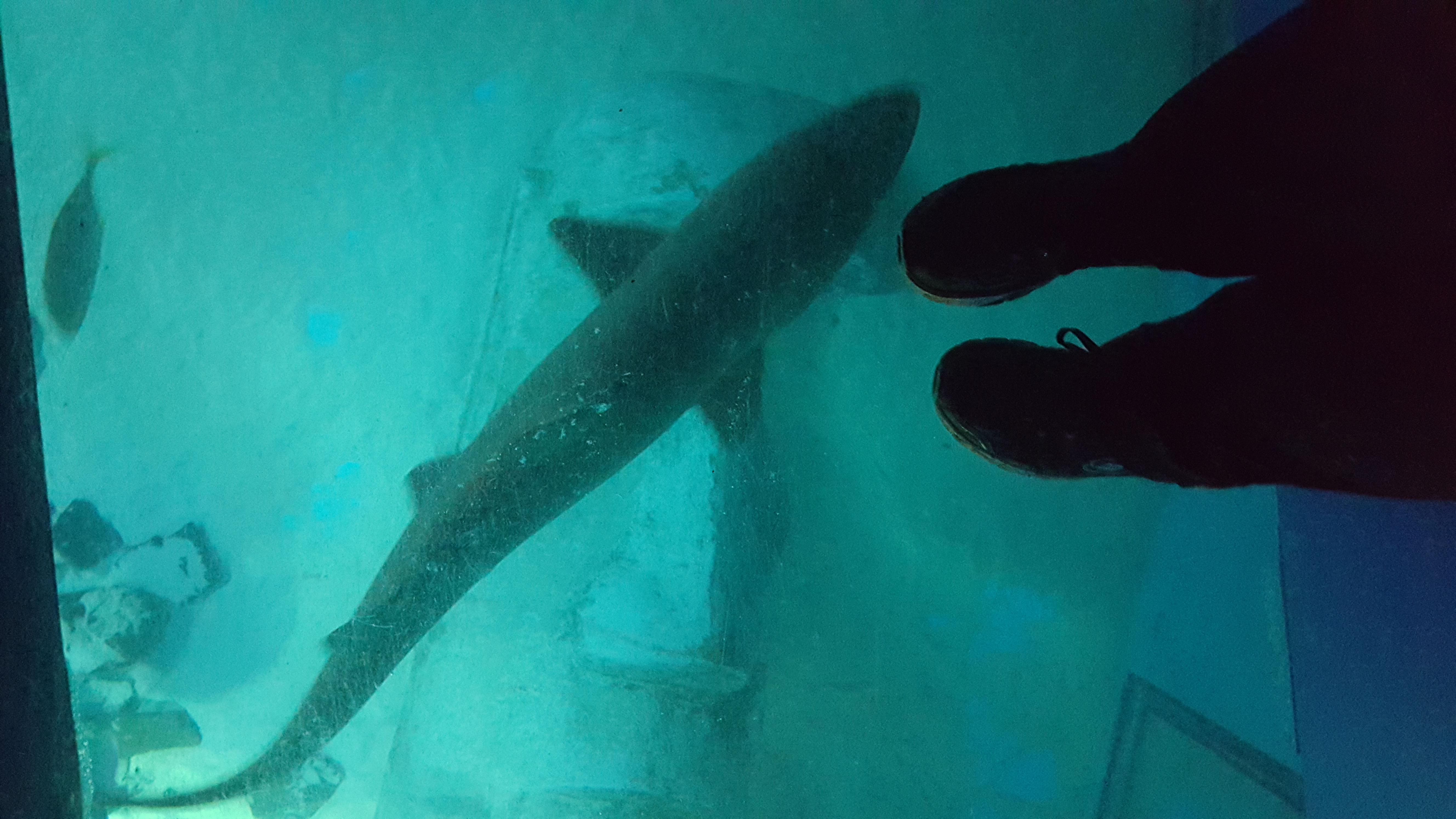 … However, it wasn't nearly as tacky as next bit, where we had to queue up to get our photos taken in front of a green screen (more on this later), before being shuffled into a lift that was vaguely decorated like a submarine, and taken down into the depths of the County Hall basements, where the exhibits are located.
Once we got down there, it was a fairly standard aquarium, except without any natural lighting. (The darkness, combined with the fact that I was chasing a two-year-old around and using my phone camera meant I didn't really get any good pictures… sorry).
First, we saw the ray pool. We were there just in time for feeding and there was a woman explaining the various species swimming around. She also said that the world's biggest ray has a 'wingspan' of 15 feet – meaning it would be larger than the pool.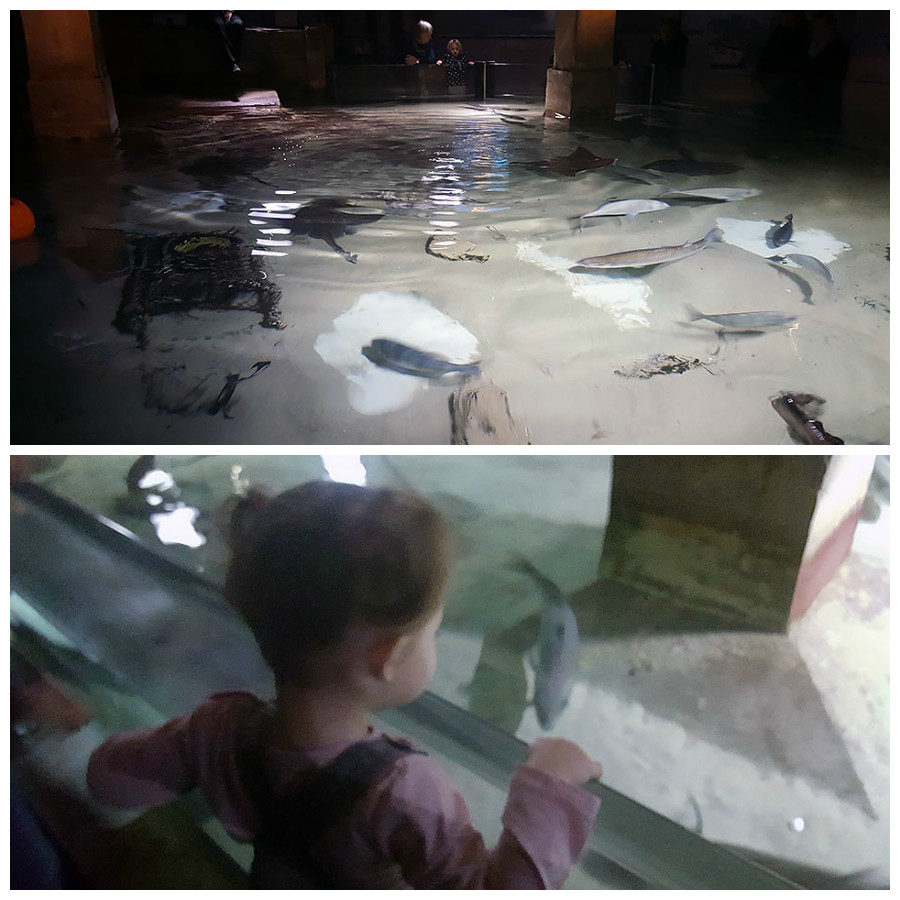 Pumpkin was mostly interested in climbing in and splashing the water, rather than looking at the hungry fish. A tantrum was brewing since Mean Mummy kept saying "no", so we moved along quickly.
Next, we stopped to take a look at this guy: a fish with "legs"!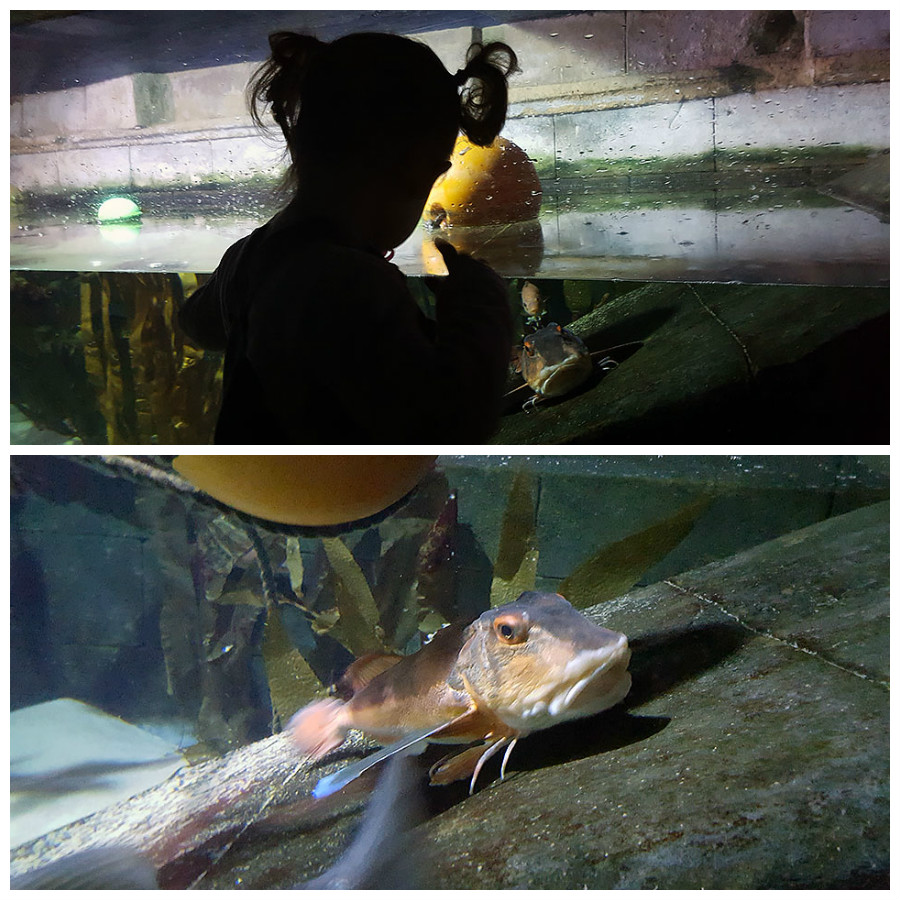 He was definitely my favourite fish of the day.
I tried to get a selfie with him too, but it didn't go well.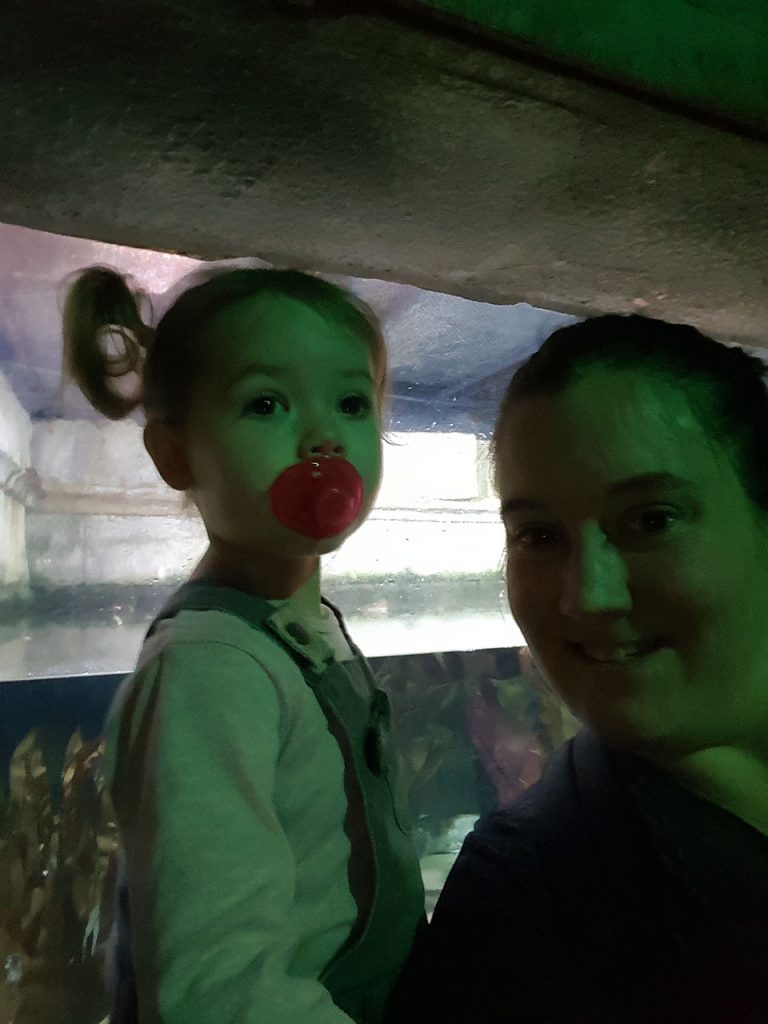 Then we found the touch pool. Pumpkin wasn't even vaguely interested in the marine life (there's no convincing a two-year-old that a starfish is a living creature). But, it meant she finally got to do some splashing, so she was very happy about that.
Next, we spent some time looking in one of the enormous tanks. There were loads of fish in there, and Pumpkin really enjoyed watching them. I also spotted a sea turtle swimming around near the top on the other side. I kept hoping he'd come around to see us, but no luck.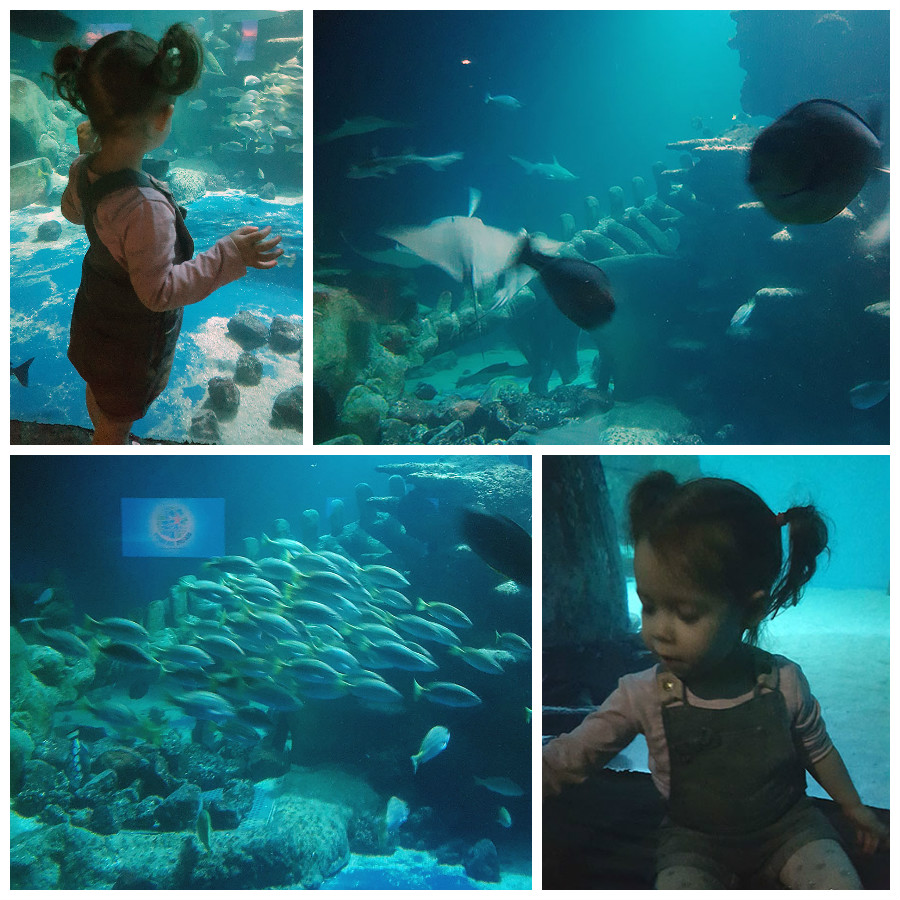 Then we went through the obligatory glass tunnel.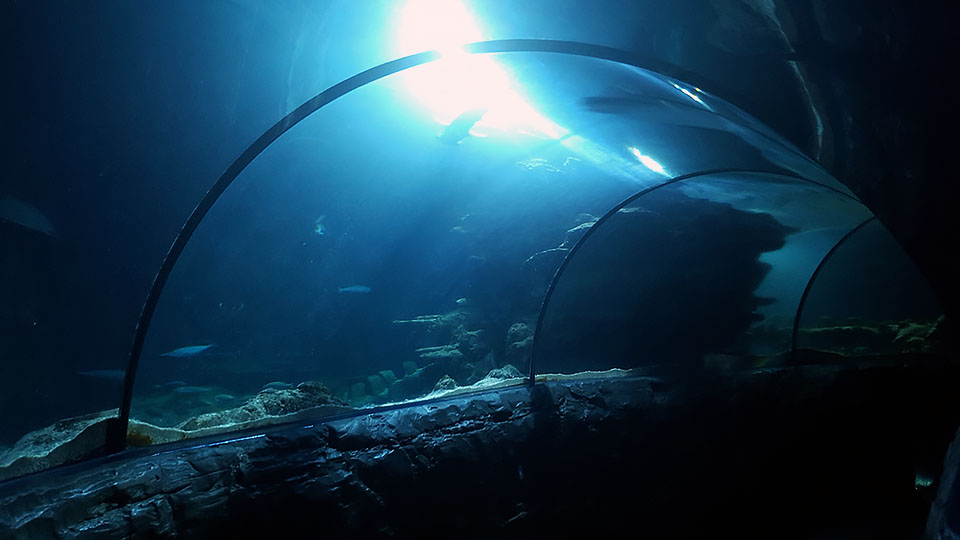 There was a section about rainforest fish, which included piranhas.
These guys were cool – although I don't remember what they were called.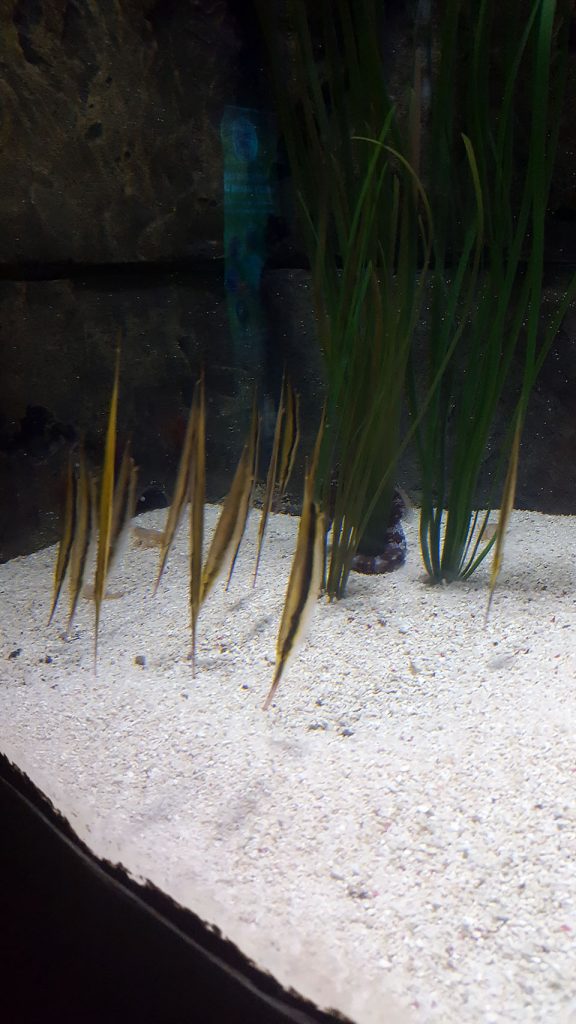 And there were some smaller turtles too!
The aquarium was laid out in a winding path, which was nice in one way – it was efficient and you knew you weren't missing anything – but it also made it feel very touristy.
At some point, we got in a lift and went up a level, following the path through again. There were more exhibits, as well as higher-up views of the bigger tanks.
There was a fake shark-diving cage next to one of the shark tanks. I have about 20 attempts at a selfie here, and I look like a dummy in all of them:
The penguins were on that second level too, but the exhibit was being refurbished (it's apparently done now), so there was only a small viewing area and it was super-crowded. We just pushed our way through the back and didn't stop to look at the birds at all.
There was also a VERY small bit about London's marine life. I was really disappointed by this. I mean, what's there was great, but there should be more. Most of the aquarium was fairly standard – you can see sharks and rays and starfish it in any aquarium – so why not have more focus on the unique marine life that can be found in the local waterways?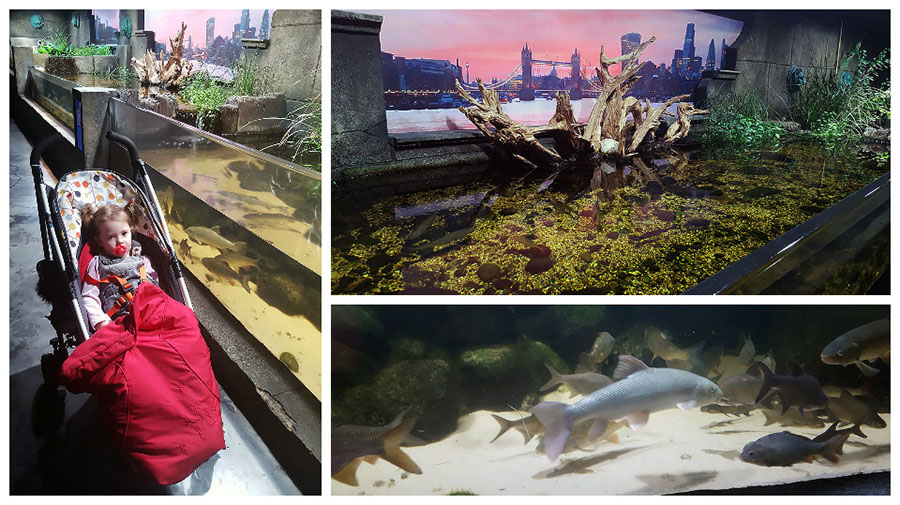 Maybe perch, roach and pike just aren't as interesting as clownfish and tiger sharks. Many visitors seemed to pass right through this section without even stopping. So I guess I'm probably the weird one in this case.
Just past the Thames exhibit, there was one last glimpse at the big central tank – and I finally got to see one of the enormous sea turtles up close. You can't really tell from this picture, but he was bigger than me!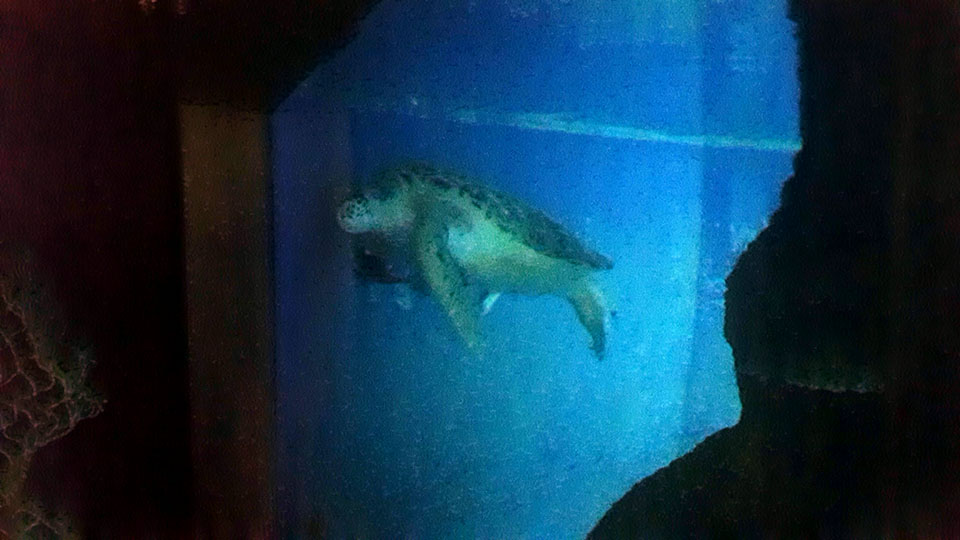 Leaving was a bit weird. You suddenly emerge from the dark aquarium into a super-bright gift shop. Beyond that was a room where all the photos from the green screen at the beginning were on display – with various backgrounds applied. It was really cheesy and left me feeling like the whole point of the aquarium was to get you to buy a photo at the end.
After I turned down TWO requests to buy photos, Pumpkin and I left and found ourselves in a weird limbo between the aquarium and the video games arcade – and there was no step-free way out. I asked an employee and he confirmed I'd need to lift the pram down the stairs – he offered to help, but I did wonder what happens to wheelchair users who want to leave the aquarium. Do they have to go back through the other way? Are they trapped in the aquarium forever?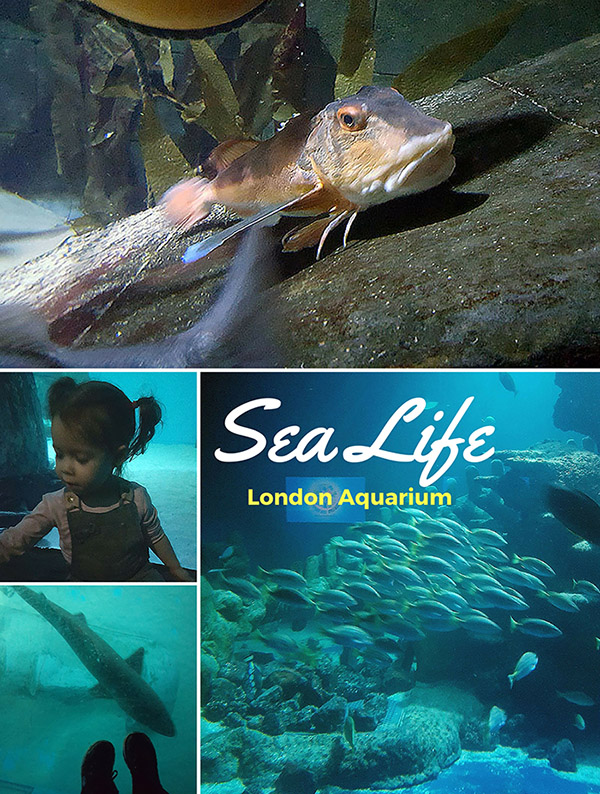 Overall, I would say that our trip to Sea Life London Aquarium was okay. Not great, but not awful. We might go again in the future, when Pumpkin is older and more interested. But I would have been disappointed if I'd paid full price for the whole family to go. At £25 for an adult ticket, it seems like a bit much for a mediocre aquarium with nothing particularly unique.
(I used some Tesco Clubcard points to buy my ticket, and Pumpkin went for free since she's only two. Discount tickets can also be bought online before your visit – so check the aquarium's website if you're planning on going.)
Have you been to the London aquarium – or any other Sea Life location? I'd love to hear about it – leave a comment below.
---